Exam Review VCP-CMA 2022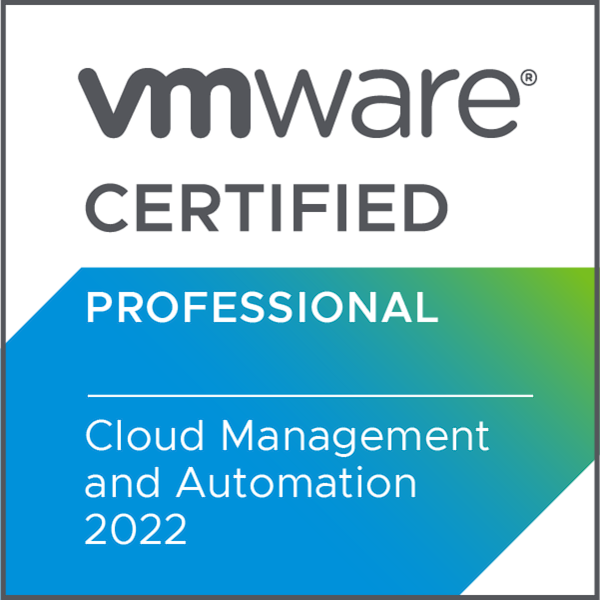 After a very busy spring and start of the summer I finally got to sit the Professional VMware vRealize Automation 8.3 (2V0-31.21) to update my VCP (VMware Certified Professional) in Cloud Management and Automation (CMA)
It's been almost two years since I did the vRA VCP exam and that was based on vRA 7.6 whereas the 2022 edition is based on vRA 8.3
I sat the exam at home with Pearson Vue's remote proctoring which I did a review of back in 2020 when it was launched as an option. The experience this time was pretty much the same, but as more people are doing remote proctoring be prepared for waiting for a proctor and the release of your exam.
Exam Guide and Requirements
Exam Guide
The VMware Exam Preparation guide details what is tested in the exam. As always this should be used as a base for your studies.
As with most other Professional level exams there are no objectives tested for Planning and Design. The exam does not test areas like Performance-Tuning, Optimization or Upgrades either.
I did have some difficulties in finding the exam guide after the revamp of the VMware Certification web site. I tried different browsers and private modes, but the link to the Exam guide was not to be found.
Thanks to a fellow vExpert, Fred Hofer, I found the link by hovering over the section below the "Associated Certification" paragraph.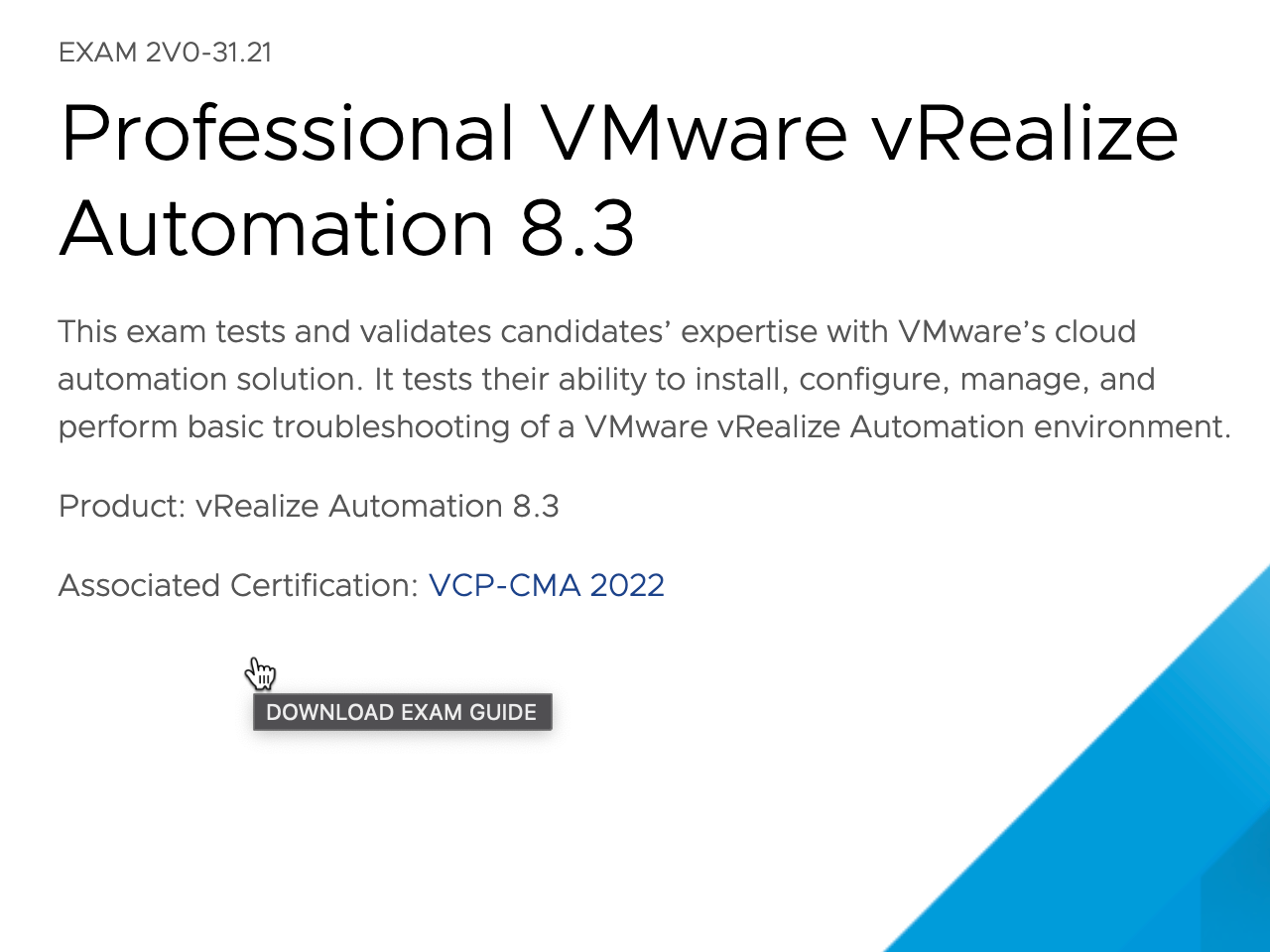 This is probably (hopefully) a local issue on my end, but I wanted to mention it if it can help others. I'll also provide the link to the PDF as of time of writing
Requirements
The details page of the VCP CMA certification lists the requirements for gaining the certification, which differs somewhat based on previous VCPs
In short, if you already have a VCP (in any track) with a year designator of 2019 or newer, you can go ahead and do the 2V0-31.21 exam and if passed you'll get the certification.
If your current VCP is older than this or you have no previous VCP you'll also have to do the VMware vRealize Automation, Install, Configure, Manage [8.3] training course
The training course is recommended as a preparation for the exam as well as it covers a lot of the objectives for the exam.
Preparations
My own preparations for this exam was in one way non-existent, but then I do have lots of hands-on experience with vRA 8.x from working with it in multiple projects over the last couple of years so in that case I have done a huge amount of preparation..
For preparation resources I would first mention the VMware documentation. The docs is most of the times the source and reference for questions tested in exams. Be sure to check the documentation pages for the vRA version tested in this specific exam (8.3).
And if you do have experience on newer versions I would recommend that you check the Release notes of newer versions to learn if there are any features that has changed since this version.
The VMware Cloud Management blog is a great resource for some more in-depth articles on specific features. Just be aware that this is updated on a regular basis so that the newer articles might not be applicable to the version of the exam.
The Training Course mentioned above is obviously also a great preparation resource. Note that it can be done On Demand where you'll have access to the Training material for 30 days so that you can follow along in your own pace.
Another great resource is learnvrealizeautomation.github.io which is a free resource developed by VMware designed to be a more "live" resource compared to the docs.
Lastly, hands-on experience is a key. Either through real-life projects on vRA or labbing. The former being the preferred.
If you don't have access to vRA in your environment(s) you can always make use of VMware Hands-on labs which has a few vRA labs where you can follow along in the lab guide, or you can use the lab as your own environment testing what you want to check out.
The exam
As all VCP exams the exam consist of multiple choice questions. The exam has 67 questions and the time alloted is 130 minutes (this includes time for non-native english speakers).
The time was more than enough for me, but I recognize that there are different ways of doing these kinds of exams and that others need the full 130 minutes.
Either way, the biggest tip on doing multiple choice exams is to read the question carefully and understand what the question actually is.
After understanding the question and what it actually asks, examine the options. Oftentimes one or two of them can be disregarded, leaving you with a couple of options to consider.
Another tip is that there might be some questions that you find to be a bit strange and that has no clear and obvious answer. You might also find that none of the options are correct. In that case the tip is to select the one that is "closest" to a correct answer.
Lastly test taking is highly individual. Use the technique that fits you best.
Summary
The VCP CMA 2022 exam is a fair exam in my view. With no specific preparation, and only hands-on experience you can pass the exam, which in my view is a great stamp on an exam.
I think that this exam, and other of the current VMware exams, has come a long way the last couple of years, and in most cases it would be difficult to pass an exam by just reading the documentation.
Thanks for reading, hopefully this blog post can give some value for anyone preparing for the CMA 2022 exam
This page was modified on July 1, 2022: Added link to exam guide