Exam Review VCP-CMA 2019
This week I sat the Professional VMware vRealize Automation 7.6 (2V0-31.19) exam which leads to the VMware Certified Professional – Cloud Management and Automation 2019 certification (VCP-CMA 2019)
In this post I will give a review of my experiences preparing for and (luckily) passing the exam. Yes I did pass, albeight with a score of 309 out of 500 and merely above the passing score of 300.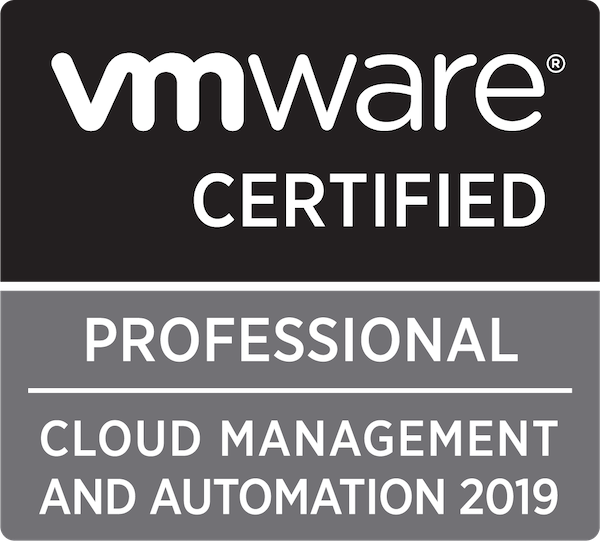 The exam
The exam consists of 70 questions and the time alloted is 115 minutes.
The time was for me me more than enough. I sat for approx. 60 minutes which is around what I normally do in a multiple choice kind of exam with 60-70 questions. Of course, time usage differs alot between test takers and depends on how your test taking procedure is. I normally review only a few questions and often just to check if another question during the exam has given me a different view on the alternatives. In the review I almost always stick with my first answer as I find that this is often the correct one (in this test I actually changed two of the answers just before submitting and proved this point - I got them wrong).
Either if you use half of the alloted time or the full 115 minutes I believe the key, as in all exams, is to read the questions carefully and most importantly understand the question. What do they really ask for?
I found the exam questions fair, they were mostly easy to understand and gave appropriate information considering the alternatives.
Even though I'm not a native english speaker I can quickly read and understand the questions and after taking a few exams you learn what kind of words and phrases to look for in a question. Very often you can quickly rule out two or more of the alternatives and you'll be left with maybe one or two to consider. Again I must stress that this is highly individual, others might need more time to read and that's just fine, after all the time is there to be used.
Preparations
So what do you need to know for passing the 2V0-31.19 exam? Well, RTFM :-)
The exam preparation guide from VMware explains the objectives tested. You need to be comfortable to some level on all of the mentioned objectives even though you might not be tested in them directly.
Objectives
NOTE! These are the objectives listed in the exam preparation guide from VMware updated June 7th 2019)
Installing, configuring and setup

Install vRealize Automation
Create and Manage Tenants
Create and Manage Directories
Create and Manage Business Groups
Manage User and Group Role Assignments
Integrate vRealize Business for Cloud Standard with vRealize Automation
Create and Manage VMware Endpoints
Create and Manage Cloud Endpoints
Create and Manage Fabric Groups, Reservations and Network Profiles
Create, Configure and Manage Active Directory Policies

Performance-tuning, Optimization, Upgrades

Maintain and Update vRealize Automation using vRealize Lifecycle Manager

Troubleshooting and Repairing

Troubleshoot Common vRealize Automation Installation and Configuration Errors
Identify the Correct Log to Troubleshoot a Given vRealize Automation Error Objective
Configure the Health Check Feature on vRealize Automation
Troubleshoot Provisioning Errors

Administrative and Operational Tasks

Create, Modify and Publish single- and multi-machine Blueprints Based on a Given Design
Create and Manage XaaS Blueprints with Custom Resource Mappings
Create and Manage Custom Forms for a Blueprint
Use Software Components in Blueprint
Export and Import Blueprints
Create and Manage NSX objects in a Blueprint
Configure a Blueprint to Deploy from OVF
Create and Manage Entitlements
Create and Manage Approval Policies
Manage the vRealize Automation Catalog
Provision Resources from a vRealize Automation Catalog
Perform Locate and Reclamation of Resources Based on Provided Criteria
Manage Provisioned Workloads (Day 2 Actions)
Perform Bulk Imports
Create and Manage Event Broker Subscriptions
Install and Configure Plugins and Packages in vRealize Orchestrator
Modify and Run Basic vRealize Orchestrator Workflows
Configure Authentication for vRealize Orchestrator
Maintain and Renew Certificates
Resources
The exam preparation guide mentions a lot of resources and you should be able to pass if you use those. I do not have a lot of real world hands-on experience in vRA so I wouldn't know how far you'd get with just that. Again I would refer to the guide and the objectives listed as I think I got questions on almost each of the mentioned objectives in some form.
My preparations for the exam included the Install, Configure, Manage (ICM) course taken On-Demand. Furthermore I've used quite a few hours in the lab, putting up some scenarios for provisioning and also around roles. The time spent in using the product is invaluable, at least for me it is a lot easier to understand things that I actually perform in a "real" environment as opposed to read it in the documentation.
I have put up my own little lab environment with a minimal vRA deployment in my homelab, if you don't have a homelab you can make use of one of the Hands-On Labs (HOL) on vRA.
What I hadn't been able to lab as much were the NSX integration which can be something to utilize the HOL for if you're short on resources in you own lab.
Of course, if you have real-world experience that beats most of the lab excercises anyday (but refer to what I mentioned above by ticking off the objectives mentioned in the preparation guide).
In addition to the ICM course and lab excerices I have used the following reources:
Summary
All in all I feel that the VCP-CMA 2019 exam was a fair exam where you need to have some knowledge in all of the tested objectives, and that a great deal of the questions were done in such a way so it would be difficult to just read the documentation.
I could have wished for a better score than 309, especially as I changed those two questions last minute only to get them wrong, but hey - A pass is a pass.
Now I guess I will start the preparations for one of the Advanced (VCAP) level exams..
Hopefully this write up can give some value for anyone considering the VCP-CMA 2019 exam.
This page was modified on February 20, 2021: Fixed syntax for new theme