vSAN Specialist Exam (and Remote Proctoring) Review
Last week I had an attempt at the vSAN Specialist exam (5V0-21.19) and I'm happy to say I passed.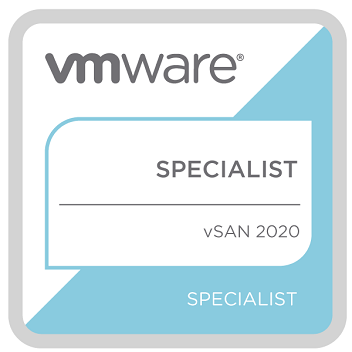 This was also my first exam done with the Pearson VUE remote proctoring option where you use your own equipment and there is a proctor watching you through your webcam. More on that later.
Preparations
As with all exams I always check the Exam Preparation Guide first. In the guide it it lists that the Minimal Qualified Candidate (MQC) has 6-12 months hands-on experience configuring, managing, and designing vSphere and vSAN. It also gives you a list of all the objectives tested in the exam, and a list of resources to use when preparing.
While I have worked with vSAN in the past it has been a while since I had my hands on it so I wanted a refresher.
Resources
I have mainly used three resources in my preparations for the exam. There is also a 3-day vSAN Deploy and Manage class that covers the exam objectives (which I'm actually attending now, after the exam...).
StorageHub
StorageHub is the place for all things storage at VMware. Before an exam it is always a good idea to refer to documentation for checking things like design considerations, configuration maximums etc. Be aware that the exam content is based on the 6.7 and 6.7U1 versions at the time of writing so be sure to verify that you are using documentation for those versions.
Book
I also have the vSAN 6.7 U1 Deep Dive book by Duncan Epping and Cormac Hogan in my bookshelf. I have had it for some while, but never really studied it back to back. The preparation for a vSAN exam was the perfect time for doing just that, and let me say that this is an excellent book. It explains a lot of complex inner workings in a simplified way. As a preparation for this exam it has more than enough content.
Labs
The last preparation resource I'd like to mention is hands-on experience. In my view this is the most important resource, and I think that if you have some time of hands-on experience with vSAN you would be able to do well on this exam. Especially if you read up on some of the configuration maximums / constraints.
If you don't have access to vSAN you can always set it up in a lab. You won't need a lot of resources, but you should have access to multiple hosts so that you can play around with failures, stretched clusters etc. Keep in mind that you can make use of nested virtualization for your labs. And if you don't have a homelab, or it doesn't have enough free resources, the VMware Hands-on-labs works perfectly fine.
There are a few vSAN labs available, one "Getting started" and a "Challenge" lab. There's also the new Odyssey versions where there's a gamification thing around the labs. Note that even though the labs have a script it wants you to follow, you can test out things on your own. Again you don't need a lot of resources to play around with things so these environments should be just fine.
The exam
So what about the actual exam. Well, it is like most VCP or Specialist exams from VMware I guess. Multiple choice, 60 questions and you have around two hours. I had plenty of time left, even after doing a short review on a third of my answers. The total score is 500 and the passing score is 300.
I found the questions to be clear and understandable, except from one where I thought the question was put in a way that could be easily misunderstood. Note! If you find these things when doing exams please take the short time to make a comment. If not it will never be changed...
The exam I got tested about every one of the objectives listed in the Exam preparation guide, with a slight weight on the Administrative and operational objective.
Exam environment
As mentioned, this was my first attempt on a Pearson Vue remote proctored exam. I have done a remote proctored exam previously, but that was a lab based exam with proctors from VMware where they set up an exam specific to me because of some issues with the exam environment.
In general I found the remote proctored experience to be fine. I didn't have to travel anywhere, which is difficult in these times, and I could use my own equipment.
Please be sure to read the prereq's for taking a remote exam. You need to have a stable internet connection, and you're only allowed one monitor. You also need a webcam and microphone so that the proctor can monitor you. I just used my laptop as this was a multiple choice type of exam and I didn't need a better monitor/external keyboard.
You need to be able to lock/close the door and there can not be any distractions around your desk. Not sure how they respond to for instance bookshelfs a few metres away, but you should consider to use a pretty stripped room. As I have a lot of computers, books and random "stuff" in my office I chose to use a different room for the exam.
You are allowed to have something to drink available, but it needs to be in a clear/unmarked cannister. I tried with a soda can, but had to remove it.
The confirmation email from Pearson asks you to do a system test prior to the exam and that you log in at least 30 minutes before the scheduled start. The login process takes some time as you are asked to photograph your environment and your identification, and upload those through a mobile app. The photos are investigated as you upload them so this could take a few minutes if the proctors are busy.
Summary
All in all I have enjoyed both studying for, and taking the vSAN Specialist exam. The questions were fair and tests a variety of objectives.
The remote proctoring is a great option if you are not able to travel to a test center, as many of us cannot in these times. I am pretty sure I will consider the remote proctoring also the next time, even if that's in a "normal" situation.
Thanks for reading, hopefully it will help you in your vSAN studies. If you have any comments or questions, please feel free to contact me
This page was modified on February 20, 2021: Fixed syntax for new theme