Exam Review NSX Advanced Load Balancer for Operators skills exam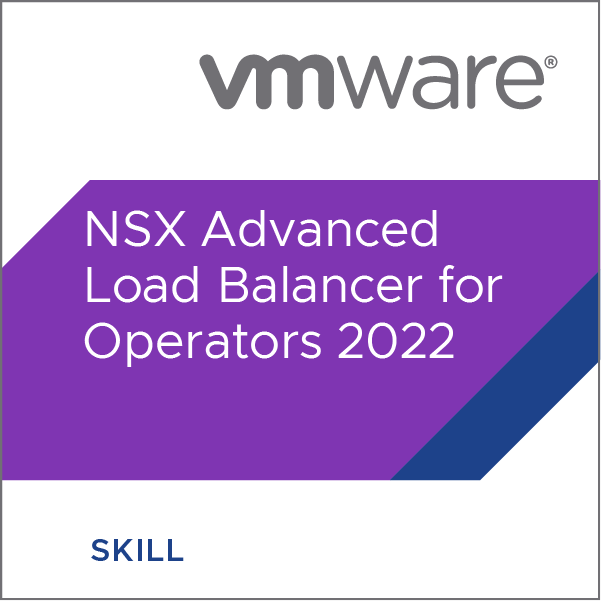 Recently I've been looking closer into the NSX Advanced Load Balancer, formerly known as Avi Vantage (and to be fair still called by many). For me doing certifications are a good way to learn and get some kind of validation of what I've learnt so I decided to have a go at the VMware NSX Advanced Load Balancer(Avi) for Operators Skills exam (5V0-43.21). As I normally do I thought I'd do a short write up of the exam and the resources I've used as preparations.
I sat the exam at home with Pearson Vue's remote proctoring which I did a review of back in 2020 when it was launched as an option
Exam Guide
The VMware Exam Preparation guide details what is tested in the exam. As always this should be used as a base for your studies.
VMware divides the exam objectives in to different standardized sections, which is used also for this exam:
Architecture and Technologies
VMware Products and Solutions (There are no testable objectives for this section)
Planning and Designing (There are no testable objectives for this section)
Installing, Configuring, and Setup (There are no testable objectives for this section)
Performance-tuning, Optimization, Upgrades
Troubleshooting and Repairing
Administrative and Operational Tasks
There's plenty of details in the exam guide for each of the sections tested so be sure to make use of that information as it gives some solid hints as to what to prepare for
Preparations and resources
As with most of these certifications and exams I would argue that hands-on experience is the most important preparation.
As this is an operators exam the obvious hands-on experience would be to work with the product and not so much designing the Load balancing infrastructure. Create virtual services to load balance apps, secure them with policies and WAF and test out all of the great features that Avi can offer.
Again, use the Exam guide and the tested objectives to check for things to get experience with.
Real-world experience is the best, but if you don't have that you can prepare just fine with labbing the scenarios identified in the mentioned Exam guide.
Note that the Avi solution requires some resources and if you don't have a lab environment available be sure to make use of the VMware Hands-on labs. There's Avi labs available (search for NSX Advanced Load balancer) that you can follow. These are not neccessarily tied to the exam, but they will teach you some of the concepts. And you can often use the labs as you'd like and test out things outside of the lab guide.
The Avi team has put together a page with lots of learning resources that is useful. Check it out here
One of these that I want to mention, and one that I personally used and learnt a lot from, is the Avi workshops. The Avi team at VMware are offering (for free) a 90 minute introduction workshop going over Load Balancing 101, and an Architecture Workshop which is four half day (4 hours) live sessions with Avi experts going over lots of features and use cases for Avi. Both gives you access to a Lab environment to test out what's discussed in the workshops.
The exam
The exam is a multiple choice exam as most other VMware exams and consists of 50 questions and the alloted time is 105 minutes. The time should be sufficient leaving time for really reading and understanding the questions asked.
As for other VMware exams the passing score is 300 and the maximum is 500. I had to have two attempts before I passed, failing the first with just a few points short.
As I usually mention in my exam reviews is that for quite a few, if not the most, questions you can pretty quickly rule out one or two of the options leaving you with fewer alternatives.
This obviously depends on how well you know the product and its features, and coming back to the hands-on experience, one example would be where different settings is done. E.g. which profile configures specific settings, and how they tie together. It'll also be questions where a clue in the question can invalidate one of the answers (i.e. quickly ruling out alternatives) even though the answer vould be valid in other cases.
Summary
The NSX Advanced Load Balancer for Operators skill exam was a great way for me to get to know the Avi platform even better, and I really had to dig in and get my hands dirty. This obviously varies with your mileage with the product and its features.
All in all a fair exam, and again, get some hands-on experience with the features. It will help in understanding the product and by that passing the exam.
Thanks for reading!
This page was modified on July 15, 2022: Fixed typo