Exam Review - VCP Application Modernization 2021 (2V0-71.21)
Recently I passed the Professional VMware Application Modernization exam (2V0-71.21). This is a short write-up of my experience with this exam.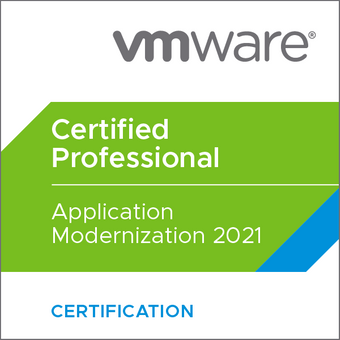 The VMware Certified Professional Application Modernization certification is brand new and is testing skills in the Cloud Native and Application Modernization areas.
From the VMware certification page:
This exam tests a candidate's expertise with VMware Tanzu Standard Edition including vSphere with Tanzu, Tanzu Kubernetes Grid, and Tanzu Mission Control. The exam also tests fundamental cloud native skills including containerization, Kubernetes, and application modernization.
Earlier this year I also passed the VMware vSphere with Tanzu Specialist (5V0-23.20 exam which is also quite new.
The biggest difference between the two is that the VCP exam covers more of the Tanzu portfolio, e.g. Tanzu Mission Control and TKG, as well as vSphere with Tanzu, while the Specialist exam is mostly focused on the Workload Management feature in vSphere and the surrounding components. Both is also testing general knowledge of how to work with Kubernetes.
Exam guide and requirements
The VMware Exam preparation guide lists the testable objectives for the exam. Use this as a base for your studies before the exam.
To get the VCP Application Modernization certification you'll need to either:
Hold a valid VCP in a different area (e.g. DCV, NV, CMA, DW, SEC)
OR
Attend one of the required training courses:

VMware vSphere with Tanzu: Deploy and Manage [V7]
VMware vSphere with Tanzu: Deploy and Manage [V7] - On Demand
VMware Tanzu Kubernetes Grid: Install, Configure, Manage [V1.0]
VMware Tanzu Mission Control: Management and Operations 2020
Kubernetes Foundations
AND
Pass the Professional VMware Application Modernization exam (2V0-71.21)
I have both a valid VCP and I've attended the Tanzu training courses mentioned earlier this year so for me the exam was the last requirement for gaining the certification.
The training courses are quite good and does prepare for some of the objectives in the exam, but note that they all have their different focus and that by just taking say the Tanzu Kubernetes Grid course you won't get much detail about vSphere with Tanzu.
Preparations
The exam guide mentions a few resources recommended while preparing for the exam. Most of which are the standard Product, Knowledge base and Documentation articles.
A good starting point would be the Tanzu Documentation page. Then map the objectives listed in the Exam preparation guide to corresponding pages in the documentation.
Again, the Application Modernization exam tests most of the components of the Tanzu Standard Edition so you should have a solid understanding of them. Both a theoretical understanding (like limitations and requirements), but also a practical (e.g. what command is used for troubleshooting a specific component).
Hands-on experience with both vSphere with Tanzu, Tanzu Kubernetes Grid AND Tanzu Mission Control helps a lot, I would say it's essential for passing this exam. As mentioned there will be questions on specific commands for performing a set of actions and these are often difficult to keep track of if you haven't performed them in a real environment.
One thing that might be a bit difficult to get experience with is Tanzu Mission Control (TMC) as this is a cloud service delivered by VMware as a Software-as-a-Service. I have been lucky enough that I've had access to it via a Trial license and have got my hands dirty with it that way.
I've done a few blog posts about it which might help a bit. A list of the posts can be found here. Another great resource is the series created by Dean Lewis
Although I haven't tested it myself, VMware recently released a Hands-On Lab for TMC, which might help. There's also Hands-On Labs (HOL) for both vSphere with Tanzu and Tanzu Kubernetes Grid so be sure to check them out too if you don't have access to your own environment.
All App Modernization HOLs can be found here
Update 2021-06-24:

Hands-on experience with the products are essential, and a great list of resources with labs and workshops can be found over at modernapps.ninja. The ModernApps site offers courses too, for instance VMware Tanzu Standard 101 and vSphere with Tanzu 101

VMware does also offer free courses over at KubeAcademy which can be a great resource both for Tanzu stuff, but also general Kubernetes and Container technology.
The exam
The exam consists of 55 questions and you are given 130 minutes to complete it.
As most other VMware exams the passing score is 300 using a scaled method meaning that the questions are not neccessarily equally weighted.
I did the exam online with Pearson Vue remote proctoring which I've blogged about previously. Check this review for more.
A lot of the questions were quite straight forward, while a few wasn't totally clear to me. I would advise to read the question and all the alternatives carefully as there might be some wording that are slightly different between two options making one of them irrelevant/incorrect.
Summary
In all I found the exam to be fair, but though. I didn't do much preparations before sitting the exam, but I have done the training (although that was 5-6 months ago) and I have a lot of hands-on experience with the products.
The Tanzu Mission Control part would be a hurdle for many, especially as it is something that most people haven't been able to test out on their own. This is a challenge with a few other VMware products, and I suspect it to be a growing challenge going forward. Hopefully we'll have easy access to trials and HOLs for all of these products.
Thanks for reading and feel free to reach out if you have any comments or questions
This page was modified on June 24, 2021: Added mention of ModernApps and KubeAcademy