VCAP CMA Design 2019 (3V0-732) Exam Review
Some time ago I passed the VCP-CMA 2019 certification exam. After that I have prepared for the next level, and a couple of weeks ago I sat and passed the VMware Certified Advanced Professional 7 - Cloud Management and Automation Design (3V0-732) exam and got the VCAP-CMA Design 2019 certification.
I passed with a score of 364 out of 500, and I'll be quick to mention that this was my second attempt at this exam.
This is the first time I take one of the Advanced Design exams in the world of VMware certifications (I have done some HPE architectural ones before). I have previously passed the VCAP DCV Deploy exam but the Deploy exam is very different from the Design ones.
The Deploy exams are lab-based and will (at least to an extent) test hands-on experience with the tested product, where as the Design exams are more like the VCP exams with multiple choice questions.

\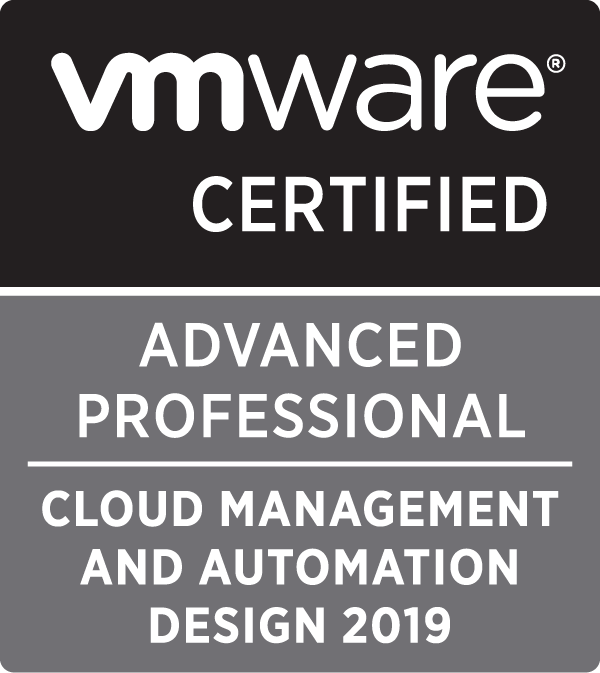 \
The exam
The exam consists of 60 questions and you have 135 minutes available. Mostly the questions are multiple choice, but there might be a few drag and drop ones as well.
As for the VCP-CMA exam I had no issues with the time, there was plenty left when I finished. I did use more time than on the VCP exam, which was expected.
Some of the questions had a lot of text and required more time for reading and understanding. As for most exams, the key is to really understand the question and what they really are asking for. This is maybe one of the biggest things to prepare for in this exam, at least if you, like me, is not that experienced in design questions.
The questions in this exam compared to the VCP level was a bit more tricky and, again as expected, more focused on selecting the correct architectural alternative. There was a few questions were none of the alternatives seemed to really be the answer, but by reading the question again you understand that you need to find the "best" alternative.
As mentioned I haven't done a VMware design level exam before so the first attempt I really found that I lacked some understanding around the more design "philosophy and terms".
As an example, one of the objectives in the exam blueprint is "Map Business Requirements to the Logical Design" (objective 2.1) and even though some requirements could be easily mapped, there are quite a few that's not that obvious. And you need to know what terms are used when talking about different stages of design.
I also had quite a few "scenario based" questions, i.e. "customer wants to do X and Y, how should you redesign Z to meet these requirements".
Preparations
The exam preparation guide has a lot of info, and lists the objectives tested. I think I got questions covering all of them, in both my attempts. Note that the exam is based on vRA 7.3 which can have an impact on what functionality is available and subsequently what you need to prepare for. This also impacts the version of the surrounding products (i.e. vRealize business) and principles (i.e. VVD).
In my preparations I initially spent the most time looking at the architecture of vRA. As I had recently passed the VCP-CMA exam I had a lot of this fresh in mind so I could focus on going a bit deeper.
Another part I spent some time on was the Roles and permissions as I felt I got some of those wrong on the VCP exam.
For my second attempt I switched the focus to general design knowledge, i.e Conceptual vs Logical vs Physical design, mapping requirements, dependencies, risks etc. I also spent some time on the NSX integration and the requirements and differences between the ways of integrating.
Resources
In the prep guide there is a long list of resouces listed. Most of which are really good and to the point.
My primary resources (some of these are for VCAP-CMA6, but most of it is still valid):
Summary
My experiences from my two attempts are mostly positive. I think the questions was fair and it was tougher than the VCP exam although this might be different based on your backgroun (Architect vs Administrator).
Something to consider before preparing for the exam at this time should be if it really is worth it. As mentioned it's based on vRA 7.3 which is relatively old (the prep guide was last updated in August 2017) and with version 8 introducing a lot of changes it might be worth waiting. In my case I decided that I'd go ahead and get the cert. And with the decision to get this cert, my next objective is the VCAP Deploy cert to finally score that VCIX.
Thanks for reading!
This page was modified on November 21, 2019: Fixed tag