VMware Tanzu News announced during VMware Explore US 2023
This post is a quick summary of some of the news announced around the VMware Tanzu portfolio during VMware Explore US 2023.
Check out the other posts in the VMware Explore US 2023 series:

VMware Aria and Tanzu announcements
Tanzu Application Platform
Tanzu Application Platform (TAP) has now reached version 1.6 with a few new features (not all listed):
Tanzu Developer Portal (formerly known as TAP GUI which is based on Backstage from Spotify)
Spring Framework 6 native compilation
Improved Container Image Registry
Bring your own scanner integration
Triaging CVEs
Secure by default workloads (auto HTTPS)
Deployment config per environment for workloads providing great dev and ops flexibility
Tanzu for Kubernetes Operations
A Tech Preview of Tanzu Application Engine is announced which is a new abstraction of the underlying infrastructure which includes workload placement, the kubernetes runtime, infrastructure resources and more, included with predefined policies and guardrails.
The engine introduces a concept of "Spaces" where developer can focus more on their apps, whereas Ops can focus on standardization and automation.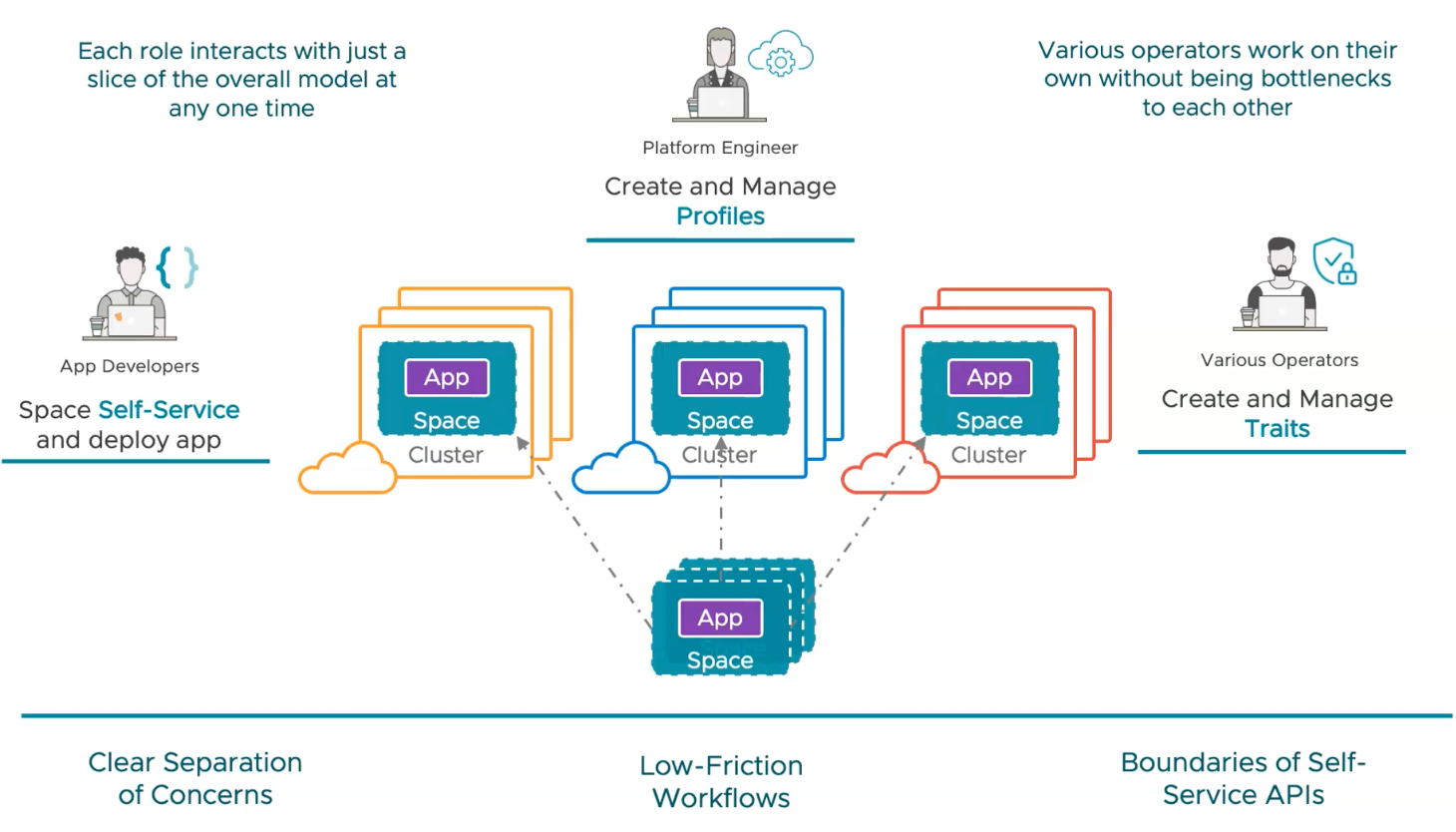 Tanzu Mission Control (TMC) will get a tech preview around cost visibility also for public cloud Kubernetes. Both actual cost and estimated. A nice addition to a product I think, from an Ops/admin point-of-view, is maybe the most interesting in the Tanzu portfolio.
Not new, but also in this space is support for lifecycle management of Azure Kubernetes service (AKS) through TMC.
Also not new is the ability to deploy and manage TMC in your own environment.
Tanzu Service Mesh introduces enhancements around Istio lifecycle management as well as real-time security insights.
Tanzu Appliaction Service
TAS 5.0 is announced and will GA sometime later this year. The release is focused on developer efficiency with faster debugging through distributed tracing functionality, further automation around certificate rotation. Also additional BOSH commands for faster disaster recovery of the platform are added, and OpenTelemetry support is added which provides the ability to pull metrics out of the platform and in to a different platform which will help reduce cost.
TAS will have a beta integration with the beforementioned Tanzu Developer Portal (TAP GUI)
VMware Application Catalog
VMware Application Catalog (aka Bitnami) will have more focus on security with a new sub-category for even more secure app images. These will be based on Photon OS and will include airgap verified artifacts. The images in this sub catalog will get security updates first.
VMware Data Solutions
VMware Greenplum version 7 will be released in Q3 which will improve scalability and performance. Version 7 will be based on PostgreSQL 12.
A beta of a management control plane for VMware managed RabbitMQ is announced and this product will provide the ability to quickly deploy RabbitMQ instances into the cloud of your choosing.
This page was modified on August 22, 2023: Added thumbnail