vRealize Cloud Management News and Announcements
Over the last few weeks the task of staying on top of all VMware news has become nearly impossible to master. The new stuff around all things Tanzu and Kubernetes is especially interesting, but there's also lots of news coming in vSphere, vSAN and NSX-T as well.
Please check out this post by my colleague Christian Mohn for an overview of the vSphere 7.1 news
In this post I'll take a stab at looking into a few of the news coming to the vRealize universe
vRealize Cloud Management
A little while ago VMware introduced the concept of vRealize Cloud Management which incorporates automation and operation of your infrastructure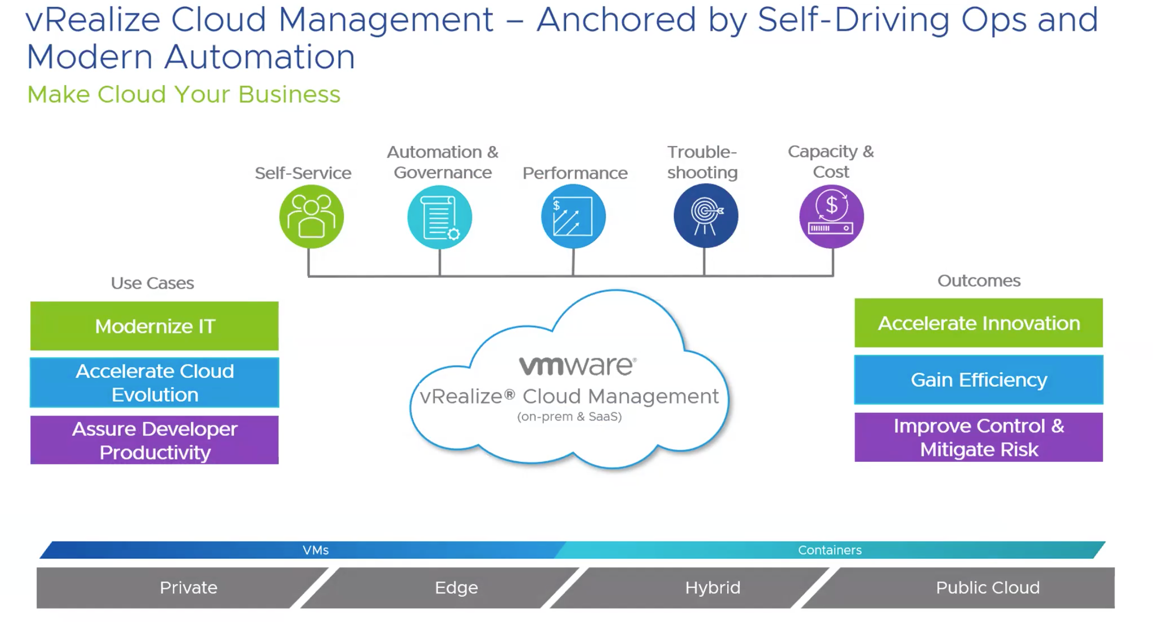 The two big building blocks in this is obviously vRealize Operations for delivering on VMware's vision on "Self-driving operations" and vRealize Automation providing a self-service catalog for users to consume.
Since a few years VMware has extended the capabilities of the on-prem products to SaaS offerings in the cloud where you no longer need to maintain a on-prem setup of the products, which for many has been a painpoint with complex installation and maintenance. The SaaS offerings have gotten better over time, and with the rate of new features put into these it's pretty clear that this is the way forward for VMware.
In addition vRealize Log Insight and vRealize Network Insight is a part of the mix providing insight (pun intended) to your infrastructure.
vRealize Cloud management 8.2 was announced back in August, check out this post for the details.
Some of the news is already available in the Cloud offerings and let's take a look at some of it. But first we'll check out two brand new product offerings
Announcing vRealize Cloud Universal
The first big news coming to vRealize is the new vRealize Cloud Universal offering.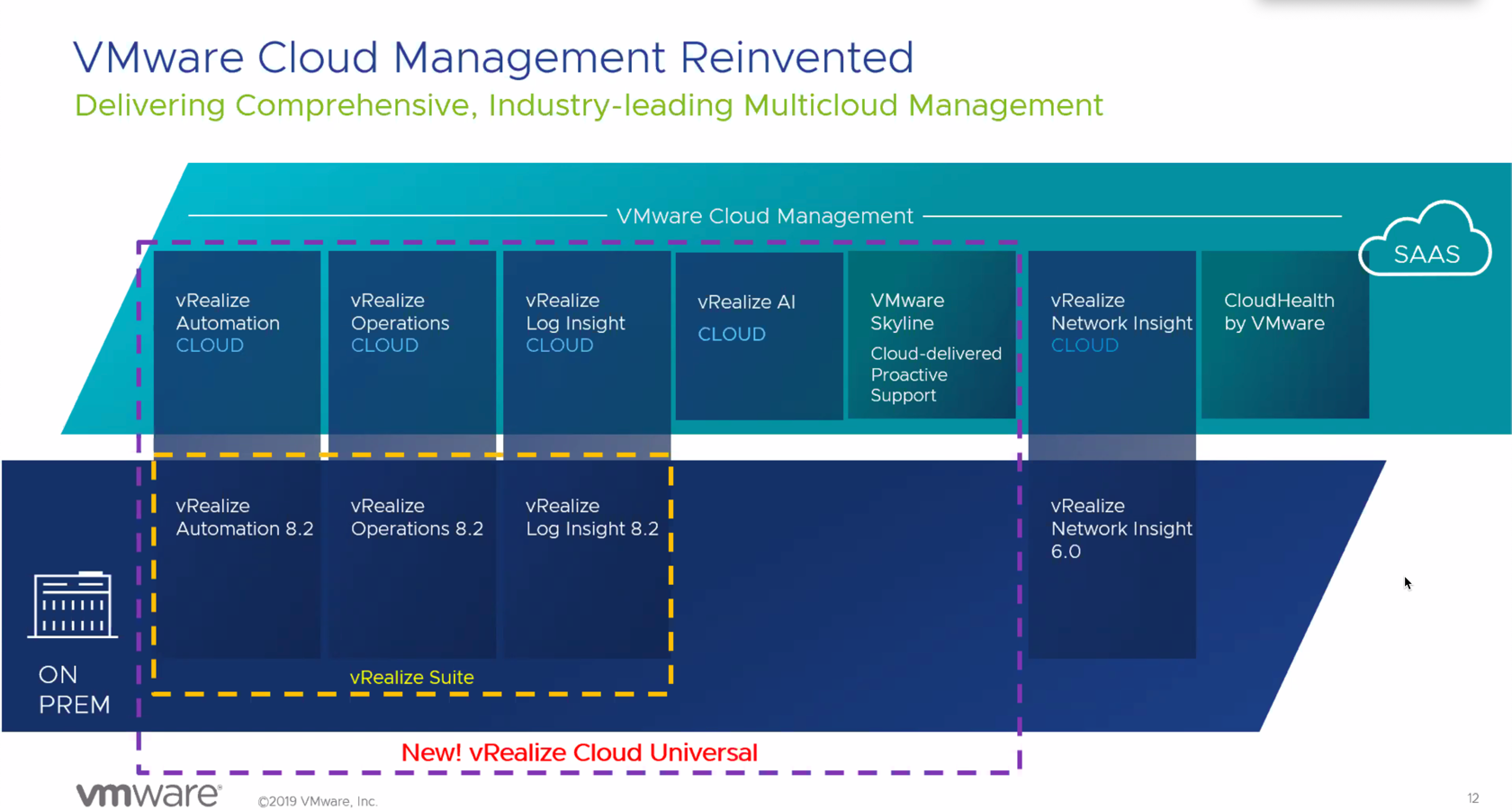 This is kind of the vRealize Suite 2.0 for those of you that are familiar with the Suite where you get Automation, Operations and Log Insight bundled.
Now VMware is extending this by adding in their SaaS cloud offerings as well as Skyline and the new vRealize AI cloud product. VMware is acknowledging the fact that customers might have large and/or complex installations on-prem and that it takes time to migrate to the cloud. Both for the workloads themselves, but also the management tools. With this new offering they give you the ability to migrate as you see fit.
The offering is also shipped through one single license providing a hybrid subscription model where you consume resources from on-prem and the cloud as you see fit.
For VMware this is a good strategy, they get people over on their SaaS model sooner than later, and they can eventually switch focus from building and supporting products that needs to work on all sorts of different infrastructures, to building and supporting products on their own (cloud) platform.
For a customer this can also be a very good offering as you get to make use of the new fancy features coming rapidly in the SaaS offerings, as well as maintaining your existing work done on your on-prem installation.
The key to make this work is through the Federation capabilities, and it will be exciting to see this in action. The idea here is to provide a single view where capabilities in both the SaaS AND on-prem are consolidated.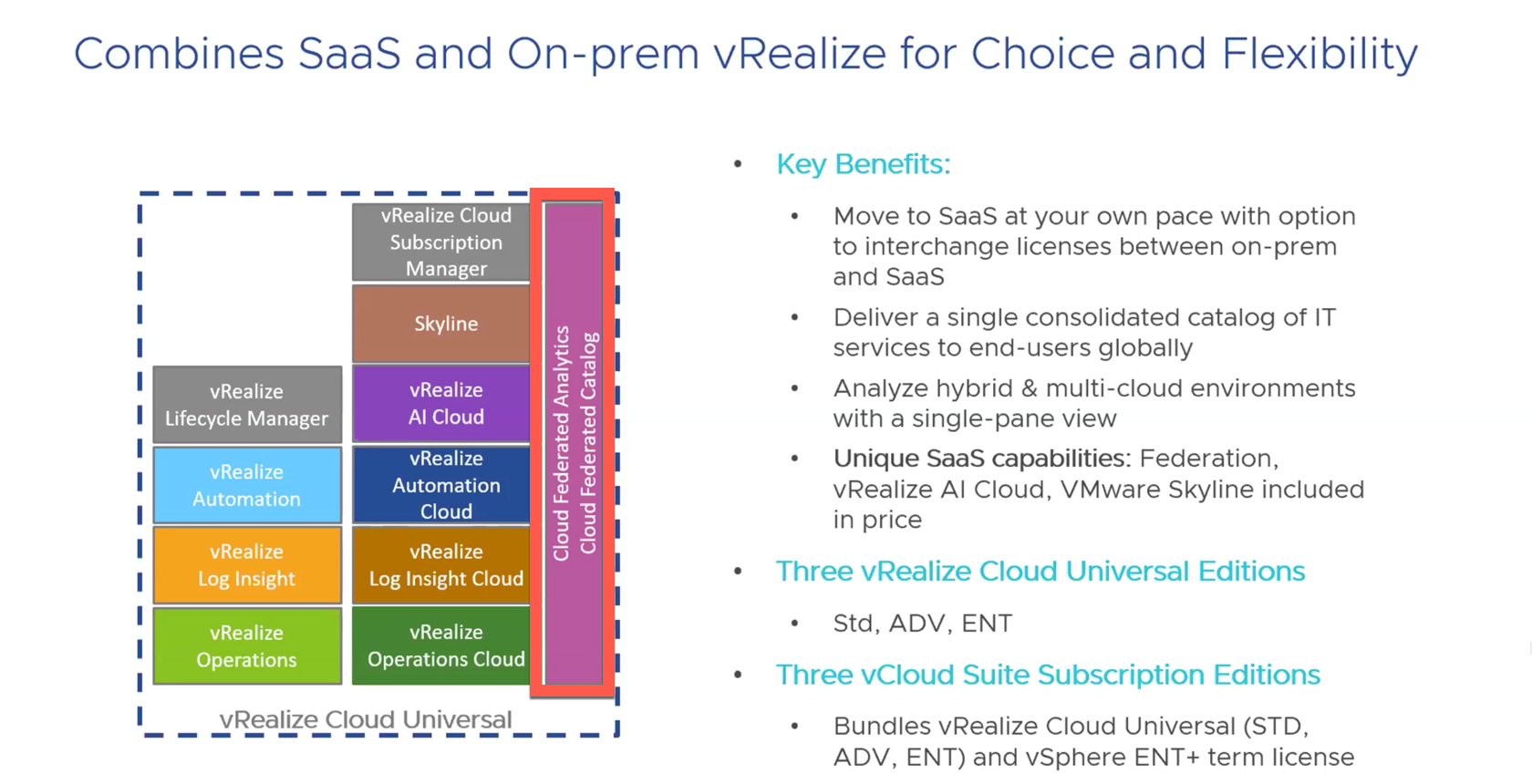 Hopefully this is working as good as VMware says it will, if not I'm not sure how appealing this will be as you will just have another set of UIs and Dashboards to access.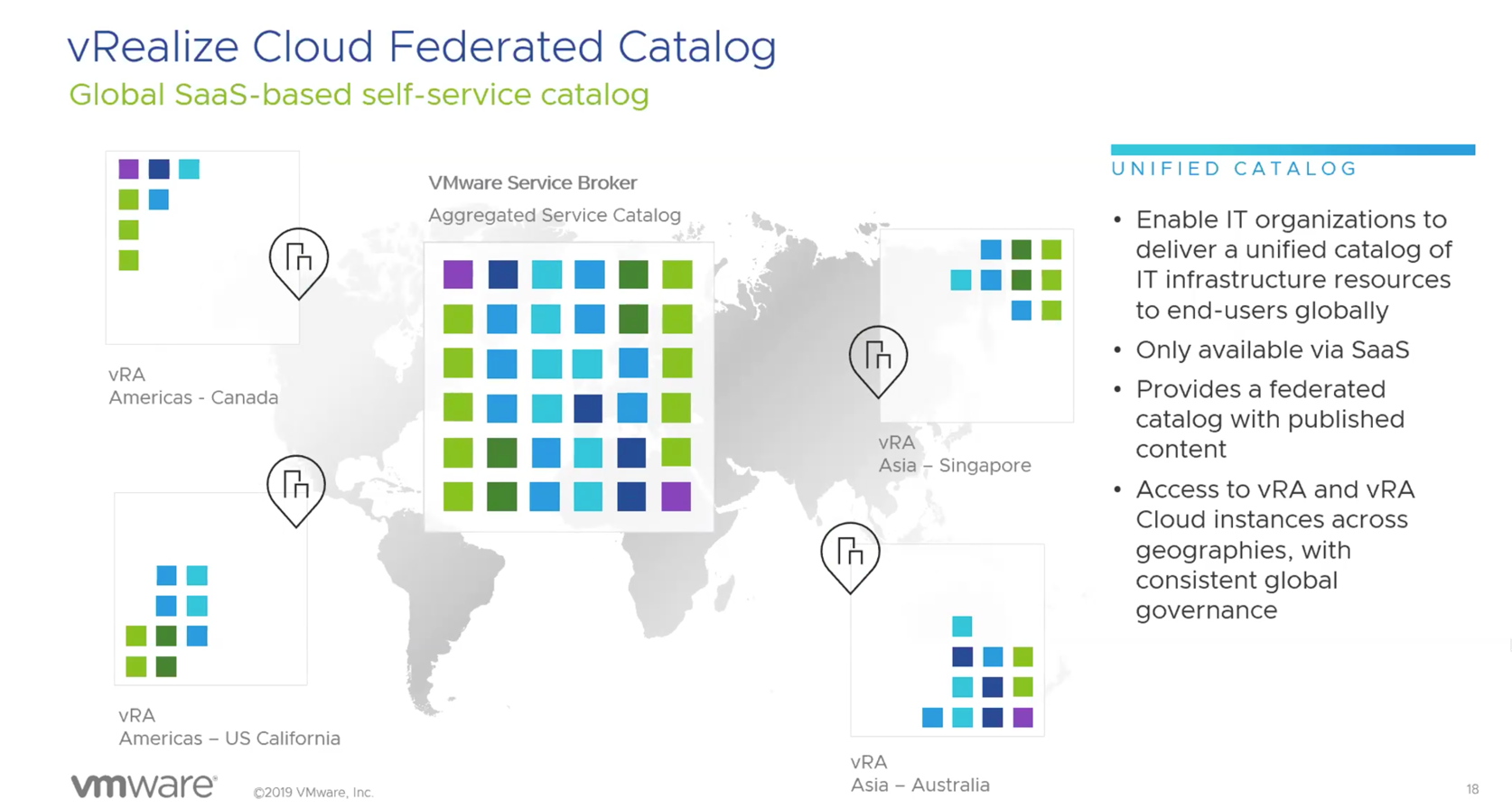 Federation will also come to vROps so you can have one view across cloud/on-prem installations
Announcing vRealize AI
One very exciting capability in the vRealize Cloud Universal offering is the all new vRealize AI. This has previously been known as Project Magna where the use-case was self-healing and self-optimization of a vSAN environment.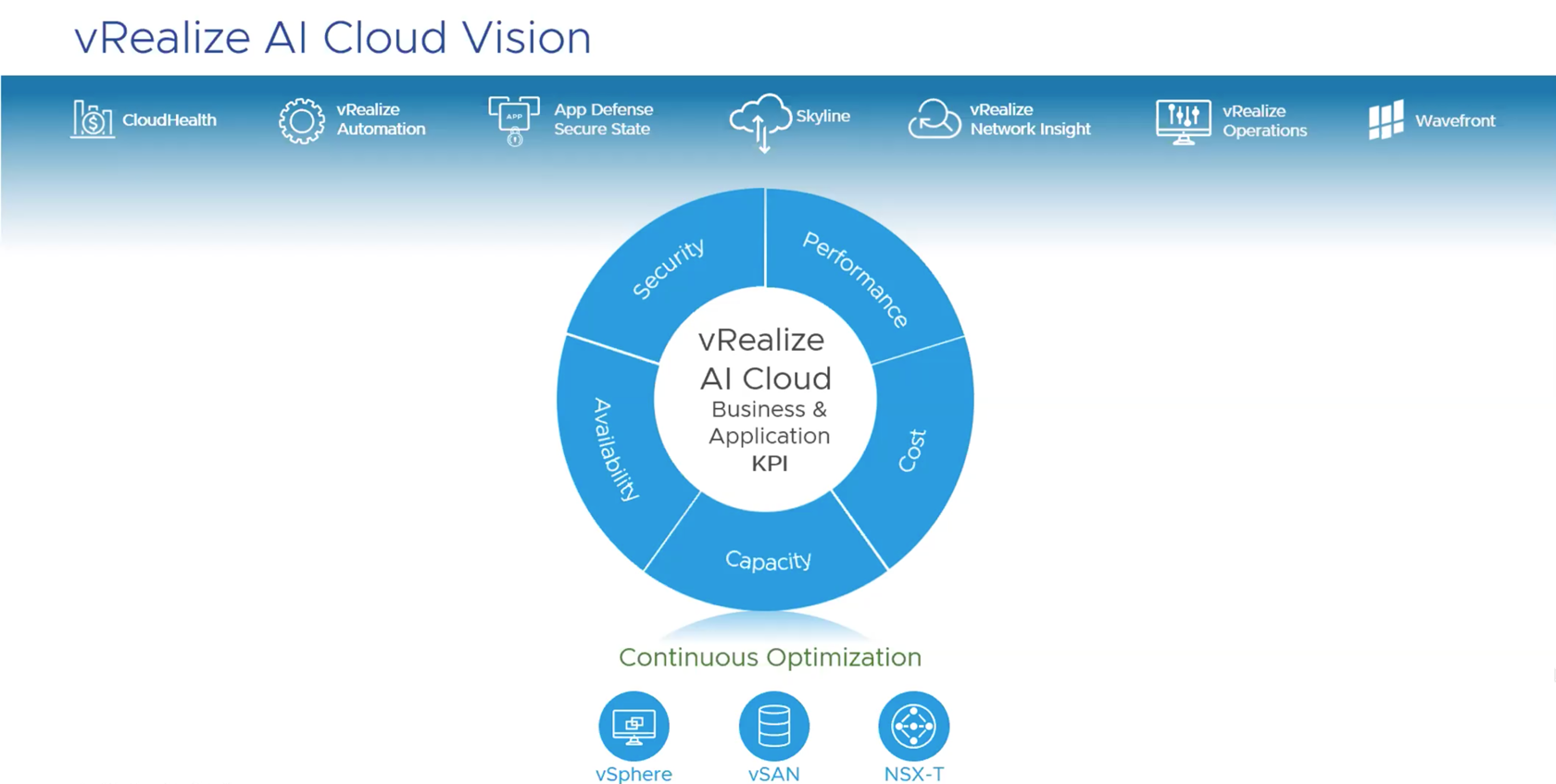 vRealize AI will focus on vSAN in it's first release, but VMware's vision is to bring this to the rest of the infrastructure as well covering the full SDDC.
vRealize AI will be a part of vRealize Operations Cloud, at least in its first release, and only as a SaaS offering. The latter kind of makes sense as there's quite some machine learning happening under the covers which needs to be powered.
Expect to hear more on this going forward
vRealize Operations 8.2
Now, let's take a quick look at what's coming to vROps 8.2. Here we're talking both on-prem and cloud. A quick spoiler: Most of the goodness will be coming to the cloud offering first.
Again, a lot of this was announced back in August. I'm expecting us to get the actual (on-prem) release pretty soon.
This list is not complete, there are more coming. Again note also that there are things only accessible in vROps cloud, some of it maybe already available
Improvements to pricing and cost engine, metering improvements

This looks promising and was something that would've been nice to have back when I was working for a service provider. Added pricing for different installed OS, tagging integration and more. Also including pricing support for non-vRA workloads

App discovery integration with vRealize Network Insight
(Near) Real-time monitoring, with 20 sec intervals

This will allow vROps to have the same granularity as vCenter. Unfortunately this will only be available in vROps cloud

APM tool integrations. Integrate with Datadog, New Relic and Dynatrace

A promising feature. vROps has always been more of an infrastructure tool and have in my opinion not been very good at bringing app metrics in. Now you can integrate with products that are better on App metrics and correlate with infrastructure metrics. However this (still) calls for two tools and this is only available through vROps cloud

Kubernetes integration

Following the Kubernetes wave in VMware, vROps will have enhanced integration and support for Tanzu (and Openshift) with Prometheus integration for Kubernetes monitoring

Flowgate management pack

Pull in data from your datacenter facility, i.e. power, cooling etc. Only available in vROps cloud

AWS Management pack enhancements

New objects and dashboards available. Deeper EC2 integration

Dashboard management enhancements
vRealize True Visibility suite

A while back VMware aquired the True Visibility Suite from Blue Medora. This is being integrated going forward, and expect most of it to be coming to vROps cloud first

Skyline integration

Finally Skyline will see some integration with vROps
vRealize Automation 8.2
vRA 8.2 was also announced a while back, in August. Even though 8.2 on-prem isn't released yet, a lot of this is already available in vRealize Automation Cloud.
With every release we are getting closer to the 7.x capabilities, with the modernizations it needs for being current. I haven't tested 8.2 yet, but I do hope that this release will be the one allowing most to make the switch
The most exciting news here, in my opinion, is the Terraform integration, but there's more:
Cloud Templates

Blueprints will now be Cloud Templates

RBAC and custom roles

More granular RBAC and the ability to create custom roles

Network automation and enhanced Day 2 actions
Migration assistance tool

Better migration tool which can help you get from 7.6 to 8.2

Multi tenancy and Centralized tenant management

Better multitenancy has been a pain point in 8.x so far, exciting to see how it works in 8.2

vCF integration
Share ABX actions between projects

This is a great feature allowing you to re-use code

Catalog federation
Terraform

Exciting new capabilities with a new Terraform integration in vRA. Create Cloud templates (blueprints) directly from a Terraform template, check and manage Terraform state, and more. Check this blog post or this post for more details

Kubernetes

Following the VMware support for Kubernetes and Tanzu with some self-service provisioning capabilities
Summary
So, there are some exciting stuff happening in the vRealize universe! I'm excited to see how the Cloud universal plays out and how customers can benefit from that, and as for the on-prem stuff I am really interested in the Terraform integration to vRA, and to see if and how we can migrate existing installations.
One thing to make note of going forward is the strategy VMware seems to have on bringing their customers over to the SaaS offerings. Most (or all) of the new stuff will be present there first, and as the announcements have shown, some of it will only be available through the Cloud versions. I'm not saying that the on-prem stuff will go away soon, but I do think that we will see even more of a mix between on-prem and SaaS offerings, with the focus being on getting people to the cloud
Thanks for reading, and happy VMworld 2020!
This page was modified on September 29, 2020: Added missing bullet point on vROps