vExpert Cloud Management 2020
Today I got the exciting news that I was accepted and included to the vExpert Cloud Management Program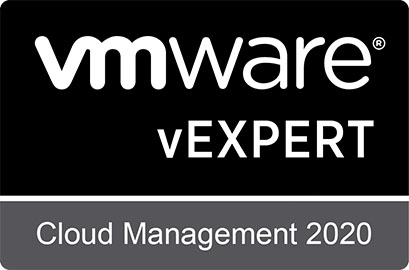 In total there are 96 members of this community which consists of people already included in the vExpert program.
The purpose of the Cloud Management sub program explained by the program manager:
The mission of the vExpert Cloud Management program is to build a community of champions that brings together the world's knowledge of VMware Cloud Management solutions, in a globally accessible form, available across multiple languages
The program focuses on VMware's cloud management portfolio, including products like vRealize Operations, vRealize Log Insight, vRealize Network Insight, vRealize Automation, and VMware Skyline.
The members get previews of upcoming releases as well as access to the Product Management teams.
Check out the announcement blog post for more details and the full list of members. Congratulations to all Cloud Mgmt experts, and an extra shout out to my fellow Norwegian Andreas Vedå!
I'm very excited and humbled to be a part of this program and can't wait to get started!
This page was modified on January 5, 2021: Update to fit new theme