Speaking at the Runecast Virtual Conference
In this Covid-19 crisis there are virtual conferences and meetups popping up all over the place. Very nice to see so many opportunities for folks to stay connected and gain new knowledge!
Some time ago I was mentioned in a tweet by Kev Johnson about the Call for papers opening for the first Runecast virtual conference which is held on Tuesday April 7th.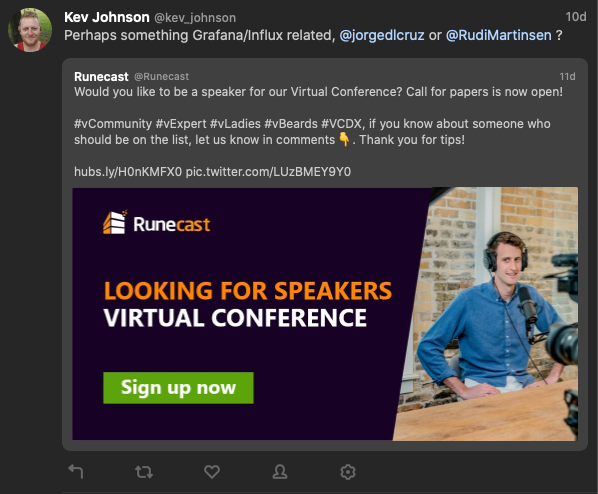 \
I got to know Kev when he was visiting a VMUG meeting I was hosting in Norway back in December 2018. At that VMUG I also had a session, where I discussed the REST APIs in vCenter and he thought that might be something to talk about at the Runecast conference as well.
So I submitted my CFP and it got accepted!
My session will be a lot like the one I did at VMworld Europe 2019 where I showed how you can build some nice Grafana dashboards with data from a vCenter Server Appliance.
This time I will have a bit more time available so I can hopefully go in to some more detail. I'll also try to add in a couple of new things in the dashboards and who knows, maybe we can see if they work with the newly released vCenter 7 as well?
More information about the Runecast virtual conference and how to register (free) can be found here:
https://welcome.runecast.com/runecast-virtual-conference-2020
Oh, and they also made this nice poster for my session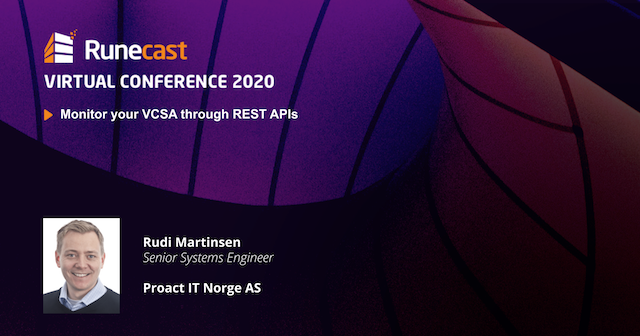 Stay safe!
This page was modified on April 4, 2020: Fixed broken img