Import-SpbmStoragePolicy error - Object reference not set to an instance of an object
In a previous post I've talked about issues in the StoragePolicy and Tag cmdlets in PowerCLI. I found a workaround by ignoring certificate warnings and setting my date format to en-US.
Today I tried to replicate some Storage Policies from one vCenter to another and I found that I got new errors...
I can export the policies without issues, but when I try to Import the policy to the new vCenter I get the following error: "Object reference not set to an instance of an object". Update 2018-04-06: VMware has confirmed the issue and stated it will be fixed in PowerCLI 10.1

I double-checked my workaround found in the mentioned blog post, but that was in place. I tried the same command on a machine without the workaround and I got the same error.
There has been released a new version of PowerCLI so I tried to update PowerCLI (which by the way is really easy with the move to PSGallery).
Even with the latest version (VMware.VimAutomation.Storage 10.0.0.7894167) I get the same error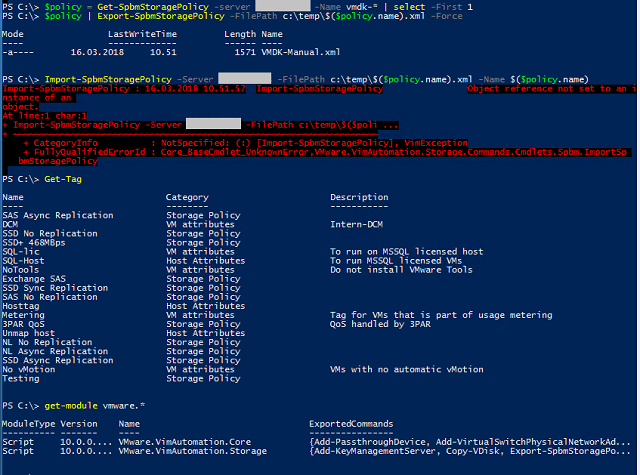 I did try the Tag cmdlet as the screenshot shows which didn't work on this machine earlier, and that bug seems to be fixed in this release!
I've filed a Support Request with VMware, but I guess I might need to argue a bit to have them look in to it. Last time I were told that PowerCLI wasn't supported, even though this post from the PowerCLI PM, Kyle Ruddy, clearly states that it should be.
To be continued...
This page was modified on April 1, 2019: Fixed categories and tags